If your idea of composting is an old school compost pile in the corner of the yard, you're probably surprised to learn that there are plenty of compact composting options available for urban gardeners. When I first started gardening on my apartment balcony, I thought composting wasn't an option until a friend of mine mentioned they had a small compost bin on their back porch. After a ton of research, I was finally able to find the best small compost bins for urban gardeners and other people with limited yard space. Check out the best options below to start composting in your apartment or condo.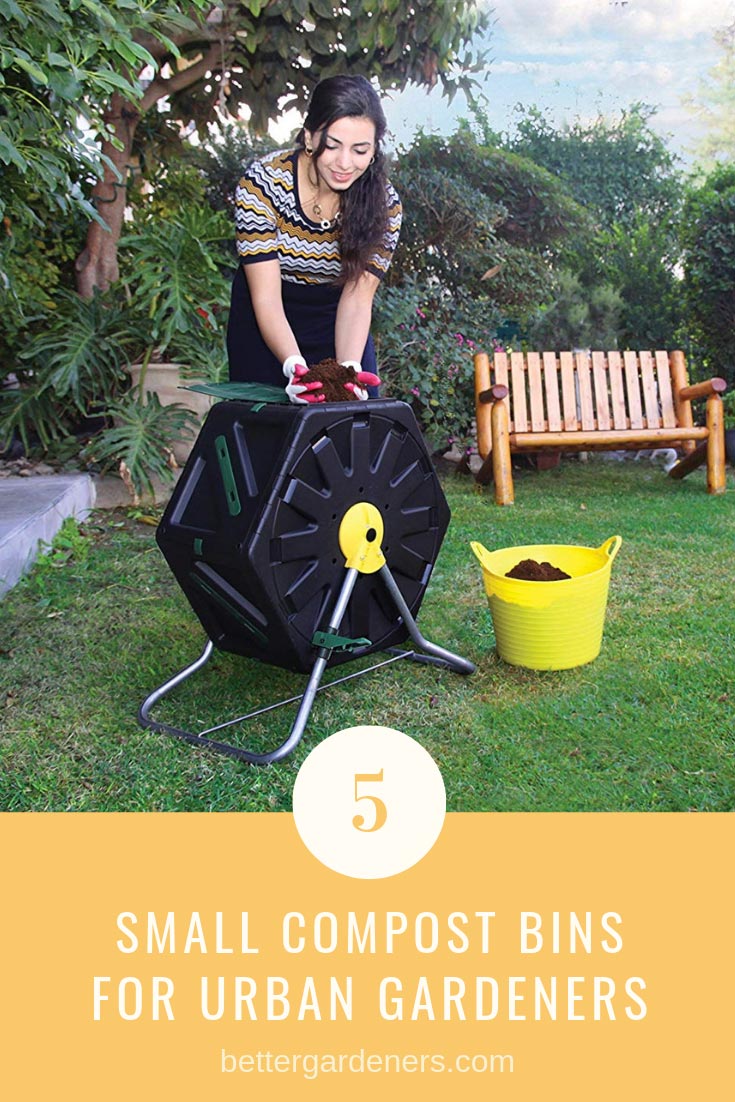 Best Small Compost Bins
This article focuses on compost bins themselves, which are containers you use for organic waste that is turned into compost. These are not to be confused with compost buckets or containers for kitchens which are used to temporarily store organic waste until it is transferred to a composter or picked up by the trash man for off-site composting. You may want to buy a compost bucket to use in addition to your small compost bin.
While shopping for a small compost bin, keep the following in mind. You want to get the biggest bin that you can comfortably fit in your space. A larger bin has more success breaking down material at lower temperatures compared to a small compost pile which needs to be much hotter. It's also best to place a compost bin in a sunny spot, so take that into consideration when you decide how much space you have for a composter. If space is a huge issue because you're an apartment dweller who only has a patio or porch available for gardening, you may want to consider a worm bin as an alternative.
Traditional compost bins generally have an open bottom, meant to be placed in a yard. If you're going to be composting on pavement, on a patio, or a porch, a compost tumbler will probably be a better choice for you. These are self-contained composters that can be placed anywhere outdoors (or in a garage for winter). Since they're usually up off the ground, they're a great option to keep rodents away as well.
Miracle Gro Small Compost Tumbler
If the Envirocycle is outside your budget, Miracle-Gro offers their own small compost bins perfect for urban gardeners at a lower price point. This tumbler design features legs that hold the composter off the ground and make it easy to tumble or turn your compost regularly. It also has a locking mechanism to keep it from turning. While it is taller than the Envirocycle, the 70L tumbler is designed with a narrow width so it's easy to keep in the corner of a yard, deck, or patio. The door slides out to easily add new waste or remove finished compost. Since this composter is up off the ground, it should be safe from most rodents.
Miracle-Gro brags that is a year-round composter, but you may want to keep it in the garage if you have especially cold winters. One thing to watch out for is there are drainage holes, so liquid can drip out of it, so you may want to put a tray under it in your garage.
Made from food grade, BPA free, and UV protected plastic. Assembly required (about 20-30 minutes).
Capacity: 70L (~18 gallons) or 105L (~27 gallons)
Dimensions: 18.1 x 23.6 x 33.1 inch
Pros:
Easy to use compost tumbler
Narrow sized fits well in limited garden spaces

Cons:
It does leak a bit, which is not ideal for some locations
The 105L model is not as sturdy with plastic legs

---
Nazhura Dual Chamber Compost Tumbler
If you have enough space for a dual chamber compost tumbler, I highly recommend it over the single-chambered Miracle-Gro model. The big challenge we found with our single chamber compost tumbler is once we filled the chamber we had to wait weeks for that compost to finish before we could start a new batch. That was weeks of compostable material wasted! Dual chamber composters allow you to have one active chamber that you're adding food waste to while the other chamber "cooks." This allows you to make twice as much compost and eliminate more waste going to the landfill.
The two tumbler bins are side by side inside the same unit which makes it as compact as possible, but it is wider than a single-chambered tumbler. Easy to tumble, regular turning helps to speed up the composting process. You can expect fresh compost in 4-6 weeks after you stop adding new material. The sliding doors keep mess and smell contained while also keeping critters out.
With no handle built-in, you turn this tumbler by grabbing the grooves and spinning it. When it's full it can take a bit of muscle to get it turning. This is a great option for urban gardeners who have the space for a dual bin tumbler.
Made from eco-friendly, BPA free material.
Capacity: 40 Gallon (two 20 gallon compartments)
Dimensions: 38″ x 28″ x 24″
Colors: Black, green
Pros:
Dual chamber allows for more compost to be made
Off the ground design keeps rats, mice, and other pests out

Cons:
Sliding door opening is small, making it challenging to get compost out
Since chambers are in the same bin, they must be tumbled at the same time
No wheels so it's hard to move when it's full

---
Squeeze Spherical Compost Tumbler
This tumbler looks a little different than the other ones on the list–it's a sphere! Does the spherical shape provide an advantage? Not that we can tell. But it allows for a large opening for easy compost removal via shovel or dumping. If you like using compost tea to fertilize your plants and gardens, then you'll appreciate the reservoir in the bottom of the sphere. It collects the liquid released as the material breaks down and you can use the spigot to drain it as needed.
This tumbler doesn't have a turning handle, so you use the grooves in the side to tumble it by hand. It only features one chamber, so you will need to wait for one batch of compost to finish before you start a second one.
Made from high-quality, BPA free food grade plastic it is ultraviolet proof and lightweight. The steel legs feature a rust-proof coating so this tumbler will not degrade from outdoor storage in all seasons.
Capacity: 34 Gallons
Dimensions: 28″ wide, 25.7″ deep, 24.6″ stand. 13″ x 14″ opening
Pros:
Wide opening makes it easy to remove finished compost
Built-in reservoir and spigot for compost tea

Cons:
No wheels. Not easy to move when it's full
Only one chamber for composting

---
Worm Factory 4 Tray Worm Composter
This mode of compost isn't for everyone. If thinking about keeping worms makes you squirm, keep scrolling! But if you love those little wigglers and all the benefits they bring to your gardens, worm composting might be a good option for you. I've had a few apartment dwelling friends turn to worms to help them compost inside their homes when a traditional garden isn't available, and it works great. This four tray worm composter is perfect for beginners because it comes with a manual and a DVD to introduce you to worm composting.
The worm factory is designed to use four stackable trays, allowing worms to eat their way through the waste and move up in the trays as it transforms into compost. You just keep adding trays as you add more waste and eventually the bottom tray will contain the compost. Empty that tray and move it to the top to add more food waste. The worm factory also collects the leachate, which you can easily use as compost tea.
One of the challenges with worm composting is you will need to keep your worms alive. That means if you live somewhere with extremely hot summers or very cold winters, you will have to keep your worm factory indoors or in a garage during those extreme temperatures. For apartment dwellers, that's actually a plus if you don't have yard spacing for composting. When you order the kit, it does not come with worms. You can easily purchase worms at a local garden store or bait shop once your bin is set up and ready to go.
Available Colors: Black
Dimensions: 16-inch x 16-inch x 13-inch
Capacity: 12.5 pounds per tray (expandable to up to 7 trays)
Pros:
Produces compost & compost tea
Can expand to include as many trays as you need
Year round composting
Can compost indoors

Cons:
Have to use worms
Have to keep in moderate temperatures
Must maintain ideal conditions to keep worms healthy
Lid is not airtight to keep out water or flies

---
Best Indoor Kitchen Composter Bins
These are indoor composters that actually compost your food waste, not composting buckets used for the temporary storage of food waste. These solutions are great for city dwellers who live in apartments and don't have access to a traditional yard or outdoor space. Indoors and container gardeners will enjoy these compact composting options.
FoodCycler Indoor Kitchen Composter
If you're willing to spend the extra money for a high-tech composting solution, this indoor "composter" is a good option. The Food Cycler is a countertop appliance that you put food scraps in and get compost in as little as three hours. Yeah, you read that right. It sounds like some sci-fi tech from the future, but it's available for urban gardeners looking for small compost bins. Inside is a bucket that you can scrape your food waste into. When you press the start button, it dries out the scraps, then agitators break the food waste into small pieces, which are then heated to cook it down into compost. Depending on what you put it, the cycle takes about 4-8 hours and then the unit automatically shuts off. Once it's done, the compost is ready to be mixed in with your soil. The built-in filtering technology means there are no odors. The Food Cycler makes composting quick, easy, and convenient.
The machine has a very small capacity, so if you have a big family or a lot of food waste you may need to run it daily. One of the downsides is this does not create traditional compost because of the quick processing time. People who have used it in houseplants found that it turns slimy and gross. The manufacturer recommends you let the soil mature for at least 30 days, though you can use it immediately if you want. We recommend it for use in outdoor plants and gardens.
Dimensions: 15 x 13 x 17.5 inches
Capacity: 2L
Pros:
Processes food scraps in 4-8 hours
Compact, countertop appliance great for people without yards

Cons:
High price tag
Need to buy replacement filters periodically
Not "traditional" compost. Not good for use in indoor plants.

---
If you have the space for it, check out these backyard compost tumblers.