For some, houseplants are a way of life. You know the type: every shelf and windowsill is overflowing with lush green plants. While you can just get them another plant, there are plenty of other unique and practical gifts for houseplant lovers. We've gathered our favorite here. Who knows, you may even want to buy a few for yourself.
Gifts for Houseplant Lovers
1. Home is Where the Houseplants Are Sign
This unique piece of decor is the perfect addition to any houseplant lover's home. The wooden door sign is 11.5″ and says "Home is Where the Houseplants Are" with an image of a monstera plant. Handmade to order, this delightful gift can't be found in stores.
---
2. Succulent Candles
What do you get for the houseplant fan who seems to own every plant under the sun? Try these beautiful succulent candles. This set of six candles looks so real you'll have to do a double-take. They're fun to burn or display in an area with poor sunlight where other plants won't grow.
---
3. Plant Daddy Hat
Guys are into houseplants to and the houseplant-loving guy in your life will love this hat! This baseball cap is embroidered with "Plant Daddy" plus two leaves and a rainbow. Subtle, but fun design shows their true love. Available in five different colors.
---
4. Sprout Bookmarks
If the houseplant lover in your life is also a reader, they'll appreciate this cute gift. These bookmarks are little sprouts, so they look like a tiny plant is growing out of your book. Comes as a set of 12 in a gift box. Perfect stocking stuffer for plant lovers and readers.
Check out more unique bookmarks.
---
5. Houseplant Magnets
Now you can get cool wooden magnets of your beloved's favorite houseplants. Happys Laserworks makes the incredible houseplant magnets. You can buy all 11 as a set or pick your favorites: monstera, zamia zamioculcas, dracaena, pothos n joy, anthurium, fiddle leaf fig, calathea, philodendron, peperomioides, ficus, and orchid.
---
6. Glass Plant Propogation Station
All houseplant collectors eventually reach the point where they want to propagate and grow new plants from cuttings. This propagation station is a beautiful and practical gift. It comes with a wood stand and three glass bulbs for propagating cuttings. It looks great displayed on a sunny table or windowsill.
---
7. Houseplant Mug
This beautiful mug is a must-have in a plant collector's kitchen. Available as a 12 oz. or 15 oz. mug, it features beautiful illustrations of common houseplants. Add some of their favorite coffee or tea to create a gift bag they'll really appreciate.
---
8. Windowsill Hearb Garden Kit
This set is the perfect gift for the plant lover who is curious about gardening. This windowsill herb garden kit comes with pots and all the supplies your need to grow 10 different herbs (Chamomile, Basil, Parsley, Rosemary, Thyme, Lavender, Chives, Cilantro, Sage, and Dill). All they need is a sunny window and they can grow fresh herbs any time of year.
Check out more herb garden gift sets.
---
9. Plant Monster Magnets
Add a bit of whimsy to any houseplant with these cute magnets. Safe for plant leaves, these monster faces attach to plant leaves via magnets to give them some personality. Comes in a set of three.
---
10. Glass Plant Mister
Plant maintenance can be beautiful with this vintage-style glass plant mister. Many houseplants are tropical plants that like higher humidity than is natural in our homes. Misting the plants regularly helps keep them happy. This gift for houseplant lovers is much nicer than a plastic spray bottle.
---
11. Houseplant Scissors and Pruners
Houseplants need maintenance and this beautiful set of scissors or pruners is an excellent way to do it. This vintage-style set features one pair of long handle scissors and two pairs of pruners.
---
12. Vintage Horticultural Chart of Houseplants Poster
This poster is the perfect decor for any houseplant lover. This vintage-style poster features a variety of houseplants with identification. This is a great gift for houseplant lovers who are obsessed with collecting new specimens. Available in three sizes.
---
13. Monstera Leaf Pattern Door Mat
Welcome people into your home by letting them know what your home is about–plants! Wood by Stu makes these cool doormats with a monstera leaf print. Available in five different sizes to fit any door.
---
14. I Wet My Plants T-shirt
This is a funny t-shirt any houseplant lover will appreciate. It says "I wet my plants" and features a watering can wetting potted flowers. Available in men, women, and youth sizes in ten colors.
---
15. Air Plant Gift Set
Air plants are unique because they don't need soil like other houseplants. If you want to buy a plant for your loved one, this is the perfect set. It comes with four tillandsia air plants and four sea urchin shells to display them. They come in a box ready for gifting.
---
16. Houseplant Jungle Jigsaw Puzzle
This beautiful jigsaw puzzle is a must-have for house plant collectors. It features leaves from a variety of beautiful plants, creating a challenging and fun image. This 1000 piece puzzle measures 20" X 27" when complete.
---
17. Personalized Pot Mug
This mug is amazing because it looks just like a terra cotta pot. Even better, you can have it personalized with the name of your favorite plant lover. This ceramic mug is 14 oz. Hand wash only, not dishwasher or microwave safe.
---
18. Glass Mushroom Watering Bulbs
One of the challenges of owning a lot of houseplants is keeping them properly watered. This is a fun and decorative way to achieve the task, meaning they won't have to worry about their plants drying out while they travel! These self-watering globes are shaped like mushrooms so they look like a piece of art.
---
19. Plant Greenhouse Tote Bag
This tote bag is so cool, every plant lover will want it! Just More Plants makes this original tote bag with the beautiful art of a greenhouse filled with plants. Available in three sizes.
---
20. Trellis for Climbing Houseplants
Climbing plants are a favorite among collectors and these stylish trellises are the perfect way to display them. Shaped like oversized tropical leaves, the trellis looks beautiful even before the plant has covered it. Comes in a pack of two.
---
21. Face Planter with Glasses Holder
This cute pot is a must-have for anyone who wears glasses. It's shaped like a face (either a person or a puppy), and the nose makes a perfect holder for eyeglasses. It also comes with a dry erase marker so you can draw details on the face. This small planter is great for succulents.
---
Save on Pinterest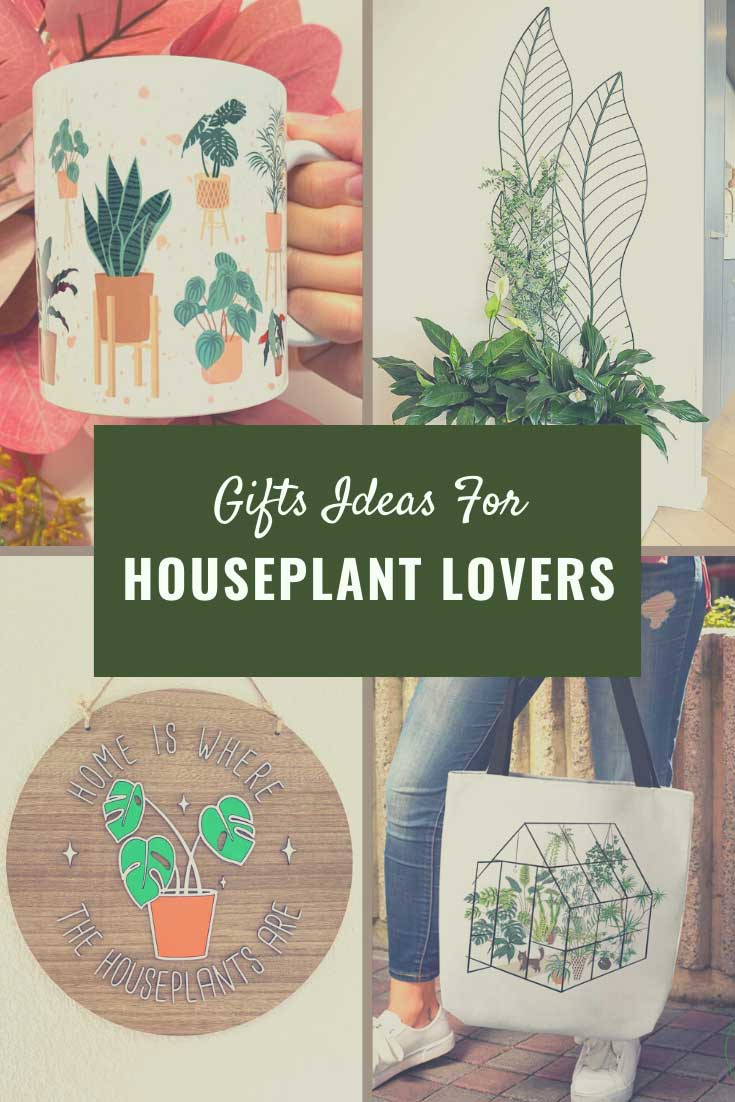 Need more gift ideas for the plant lover in your life? Check out gifts for gardeners and gift ideas for nature lovers.