Composting is one of the best hobbies for a gardener. Compost is considered "black gold," the absolute best way to fertilize and enrich soil for growing vegetables, fruits, herbs, flowers, and even shrubs and trees. One of the best ways to save money (while helping the environment) is to make your own compost from kitchen scraps, yard waste, and other compostable items.
While the tried and true method of a traditional compost bin is simple to set up, it can be a pain to maintain. Regularly turning a compost pile requires a lot of arm muscles. The pile can attract pests. Plus many suburban and urban gardeners just don't have the space for traditional piles. Backyard compost tumblers are a great alternative that makes composting easier and less messy. There are lots of options out there that work well in most backyards, but we've rounded up some of our favorites as well as tips on how to decide between a compost tumbler or a traditional pile.
If you're an urban gardener, check out these small compost tumblers.
Best Backyard Compost Tumblers
Miracle-Gro Large Dual Champer Compost Tumbler
If you're new to gardening or composting, I recommend starting with the Miracle-Gro compost tumbler. It's affordably priced and has the features most gardeners need. Unless you have space limitations, you should get their large-size dual chamber compost tumbler. It gives you the biggest capacity available plus the dual chambers mean you can have one side "cooking" while you're actively filling the other side. I really appreciate that this model features two separate chambers so you can tumble them on different schedules (the side that's cooking will need turning less often while it's best to tumble the active side whenever you add new material).
This tumbler does not feature a turning handle, instead, you can grip the grooves on the exterior to rotate the chamber. Sometimes when it's very full and heavy it can be challenging to get the inertia going. Designed with vents for proper aeration, this tumbler will leak during the composting process so it's best to place it in an area where that won't be a problem.
Each chamber features sliding doors that make it easy to add waste and remove compost. They also keep out pests like rats and mice. Another nice feature is the stopper that locks the barrels so they don't rotate while you're filling or emptying. They also have "mixing bars" built into each tumbler, to help break up clumps when you turn it. Each chamber should finish compost in about 4-6 weeks during warm weather and maybe even faster in the hottest summer weather.
Made from recycled plastic, it is BPA free with UV protection. Comes with a 2 year warranty.
Capacity: ~55 gallons (two 27.7 gallon/105 liter chambers)
Dimensions: 29.5″ tall, 37.4″ wide, 23.5″ deep
Pros:
Seperate dual compost chambers
Large doors
Stopper keeps chambers from spinning

Cons:
No wheels and not easily portable when full
Plastic clips used to hold panels together can fail
Not big enough for large amounts of yard waste

---
FCMP Dual Chamber Tumbling Composter
This is another great budget option for beginners looking to dip their toes in the composting world. The FCMP IM4000 may look like a single chamber tumbler, but it actually has two chambers built inside of it. This allows for more flexibility with your composting, so you can let one batch cure while you feed the other.
The door slides off for easy access to add new material, however, the openings are smaller than other tumblers, so it can be tricky to get the finished compost out. This tumbler doesn't have a built-in turning handle, but you can use the grooves in the surface to spin the chamber. They advertise the compost as finishing as quickly as 2 weeks in hot and sunny conditions, but my experience shows 4-6 weeks is more standard.
The tumbler stands off the ground, great for keeping out pests like rats and mice. While you can technically use it year-round, if you're in a climate with freezing temperatures you may have issues getting the sliding door open. It often freezes shut, especially if there's recently been snow.
Made in Canada from 100% post-consumer recycled polypropylene. BPA-free and UV-protected for outdoor storage year-round. The galvanized steel frame is rust-resistant.
Capacity: 37 Gallons
Dimensions: 28″ x 30″ x 36″
Pros:
Dual chamber for continual composting
Affordable price point

Cons:
Tricky to assemble
Can't turn the chambers independently
Doors are small, making it hard to add material and remove compost
---
Riverstone Industries Dual Chamber Compost Tumbler
One of the biggest challenges with backyard compost tumblers is it can be tricky to get the finished compost from the tumbler to where you want to use it in your garden. Riverstone Industries has solved this problem by selling their dual chamber compost tumbler with a matching compost cart. This cart is designed to fit underneath the tumbler so when your compost is done, you can open the door, roll the open toward the cart, and let the compost pour out. It's one of the easiest ways to transport your compost.
The tumbler itself has a lot of great features. The dual-chamber design allows you to cook one batch of compost while actively adding to the other. Use the armlock to keep the chamber in place while you're adding or removing compost. When you're ready to turn the tumbler, the ratcheted crank arm makes it easy to move. The built-in air vents are adjustable so you can trap heat in to speed up composting or increase airflow to try out overly damp material.
This tumbler is more expensive than the entry-level ones we recommended, but these extra features and the compost cart are worth paying extra. It's a great investment for serious gardeners and composters.
Capacity: 65 gallons
Dimensions: 30″ x 41.3″ x 44.5″
Pros:
Dual chambers for simultaneous composting
Compost cart to easily transport finished compost to the garden
Ratched crank arm

Cons:
Can't rotate chambers independently
Tricky to assemble

---
Mantis Compact ComposTumbler
If you're ready to really upgrade and move past the plastic compost tumblers, Mantis offers this metal option for heavy-duty composting. Made from powder-coated glavannealed steel, the drum is all metal with BPA-free, food-grade plastic end caps. Rustproof and sturdy, the ComposTumbler will last you season after season of composting. This tumbler has a huge capacity of 88 gallons, which is the equivalent of three 30-gallon trash bags. Use your food waste and yard waste to create tons of compost for your garden.
Unfortunately, this is only a single chamber tumbler, so once it's full you'll have to wait for the batch to finish before you can add more material. However, if you're composting a lot of materials like lawn clippings and leaves, it may be worth buying a second one for continuous composting.
The door is fully removable, providing a large opening that makes it easy to dump in bags of yard waste or shovel out finished compost. The gear-driven handle makes turning the tumbler easy, even when it's full of material. The inside of the chamber features "mixing fins" which helps to break down and mix materials whenever you tumble it. The aeration vents on the door also provide drainage. They advertise it as a way to collect compost tea, but we mostly find it drips when we're tumbling. Expect finished compost in about four to six weeks.
Made in the USA. Comes with a 2 year warranty.
Capacity: 88 gallons
Dimensions: 43″ H x 42″ W x 33″ D
Pros:
Rotating gear handle for effortless turning
Fully removable door for easy adding/removing materials
Large capacity for composting yard waste

Cons:
Single chamber tumbler
Can drip juice and other moisture from vents
Heavy and not easy to move around – weights 60 lbs when empty

---
Lifetime Double Bin Rotating Composter
If you want big composting capacity with dual chambers, this compost tumbler from Lifetime will tick your boxes. What looks like two barrels mounted side by side is a dual bin composter with a total capacity of 100 gallons. Use one barrel to cure older compost while you fill the other with fresh food scraps and yard waste. An internal aeration bar runs through the center of each barrel, which helps to mix material when you turn the chambers and adds extra airflow to help the material break down.
This tumbler doesn't have a turning handle, but the built-in handholds help you get a grip to turn it. You may need a little extra arm strength when the barrels are full. The rotation lock helps keep each barrel in place while opening the lid to add or remove material. The lid is fully removable to easily shovel out the compost or tip the barrel to pour it out into a wheelbarrow or container.
Made from weather-resistant materials, the barrels are made from UV-protected, high-density polyethylene and the stand is made from powder-coated steel. The double-walled panels help retain heat to keep your compost cooking.
Capacity: 100 gallons (two 50 gallon chambers)
Dimensions: 42.25″ tall, 65″ wide, 31 in deep
Pros:
Dual chambers
Huge composting capacity
Fully removable lid

Cons:
No turning handle
Heavy 85 lbs when empty — hard to move when full
---
Save on Social Media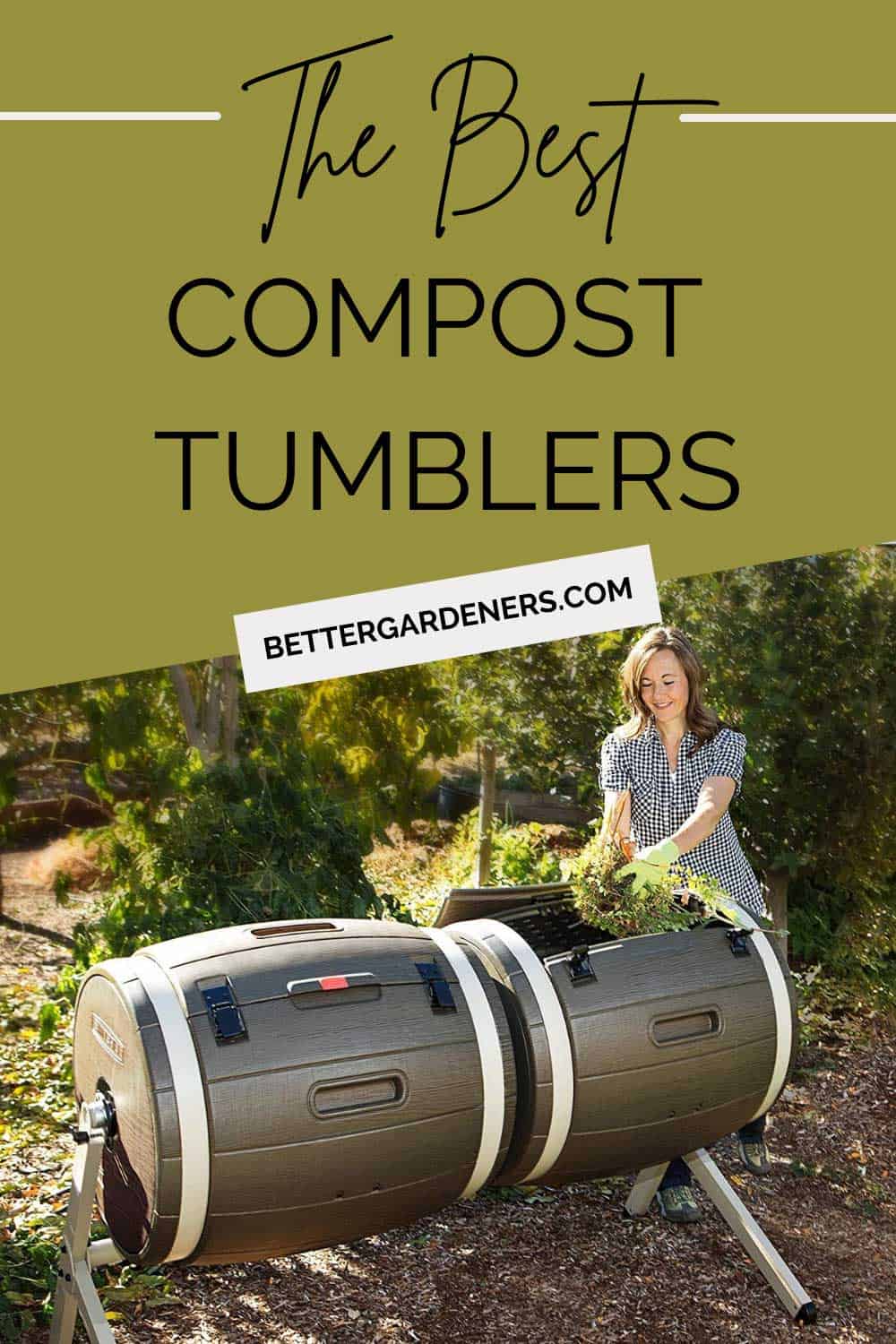 Compost Tumbler Pros and Cons
Whenever you're choosing a method or technique for your composting, there will always be pros and cons to each option. Using a compost tumbler is the same way, there are lots of reasons why they absolutely rock and some reasons that they can be really frustrating. Here are some points to consider when you make the decision to use a compost tumbler for your backyard garden.
Compost Tumbler Pros
Awesome Way to Process Food Waste in Small Spaces
If you're an urban gardener composting in a small space or even a suburbanite with limited yard space, you probably can't set up a three pile system for composting. Using a tumbler can help you compost without taking up a lot of space. I especially like that compost tumblers can easily be tucked next to a garage or shed, out of sight and out of the way.
Easier to Turn via Tumbling vs Manually Turning a Pile
If you've ever turned a traditional compost pile, you know how much work it is–it's manual labor! For some gardeners (like seniors or kids), that's not practical. The whole family can get involved with composting when you use a tumbler. It's easier to add and mix waste. If you or a family member have strength or mobility issues, consider getting a tumbler with a turning handle to make the process even easier.
Less Mess and Smell
Compost piles are unsightly and if you don't have space to tuck it away, you can "hide" your pile inside a compost tumbler. Since all your material is contained, you have less mess to deal with and there's overall usually less odor. You will probably be able to smell the compost when you're right next to the tumbler, but the scent won't necessarily be drifting across your backyard.
Keeps Pests like Rats, Mice, and Squirrels Out
Nothing attracts rats and mice like rotting food. Even squirrels don't mind helping themselves to a little snack from the compost pile. Unless your pile is exclusively yard waste, there's a good chance that some rodents might be interested in your kitchen scraps. Compost tumblers keep your materials off the ground and the lids seal to keep pests out.
Compost Tumbler Cons
Tumbler Don't Get as Hot a Compost Piles
Most traditional compost piles will reach temperatures 120-170 degrees Fahrenheit. Depending on your climate and the location of your tumbler, you may be able to reach similar temperatures, but frequently it just doesn't happen. Often the issue is that the quantity of material inside the tumbler is enough for it to heat up. Plastic is often not a good heat insulator, so if outside temperatures are cool, it may get cooler inside the tumbler as well. This means your tumbler probably won't get hot enough to kill weed seeds, so make sure not to add any to your mix.
Takes Longer to Breakdown Some Materials
My biggest frustration with using a backyard compost tumbler is how certain materials won't break down as quickly as others. Real problems are thicker peals like those from bananas and avocados. If you use cardboard as a brown, that often doesn't break down quickly. Leaves put in whole can also be slow to breakdown. Work arounds include using a blender or food processor to break down kitchen waste into smaller pieces that will compost more quickly. Mulching fall leaves also makes them easier to break down.
Not Good at Breaking Down Yard Waste
While grass clippings will work fine in most compost tumblers (if the capacity is big enough) other yard waste that may break down in compost piles won't always break down efficiently in a tumbler. End-of-season plants, fall leaves, small sticks, and other yard waste is often too bulky to break down in the lower temperatures of a tumbler.
---
Features to Consider When Buying a Compost Tumbler
Size
There are two facets to consider when thinking about a compost tumbler's size. First, there is the capacity of the tumbler. The bigger the capacity, the more material you can compost at once. If you create a lot of kitchen and yard waste, you may fill up a small capacity tumbler in a single weekend. A large capacity tumbler (or multiple tumblers) may solve that problem for you. If you're just looking to compost kitchen waste, you may only need a smaller tumbler.
The other size issue is how much space a tumbler will take up. Usually the bigger the capacity, the bigger the tumbler will be. There are small compost bins perfect for gardeners with limited space. If you want a lot of composting capacity, you'll need to have the space for it. Pay attention to the dimensions of each tumbler and make sure you find one that fits your space.
Single or Dual Chamber
There is nothing more frustrating to me than filling up a single chamber composter and being stuck with kitchen and yard waste that I can't compost. Depending on your goals when it comes to composting, this may not bother you. Dual-chamber compost tumblers are a great way to have your cake and compost it too. One chamber can be active, where you're adding your fresh waste, while the other one is just cooking. As one batch finishes, you can continually switch back and forth between the two chambers.
If you don't like the design of dual-chamber compost tumblers or really need a lot of composting capacity, an alternative is to buy two compost tumblers and alternate them the same way.
Door/Opening Size and Type
You're going to spend a lot of your time putting material in your tumbler, so might as well make sure it's easy. Usually, tumblers either have a sliding door or a hinged door. Some models have doors that can be removed completely. What type you pick will probably depend on personal preference.
What is perhaps more important is the size of the opening. While you may not need a large opening if you're just adding cooking scraps, a bigger opening is a must-have for adding bags of yard waste. Also, consider how you'll get the compost out when it's done. Can you fit a shovel in to scoop it? Will you just turn the tumbler over and dump it on a tarp?
Compost Tea
Some gardeners live by their compost tea and others don't even know what it is. But if your main goal for composting is to make the most of that fertile liquid, pay attention to the design of your tumbler. I've seen tumblers with reservoirs specifically for collecting compost tea, but many barrel shape tumblers just let it leak out the bottom. You may be able to capture it with a bucket, but again it depends on the model.
Turning Handle
Most compost tumblers are turned by gripping recesses in the exterior with your fingers and giving it the old heave-ho. This takes some strength and for some gardeners might be difficult or impossible. If your tumbler is going to be used by seniors or kids, it will be easier to tumble if you buy a model with a built-in turning handle. Many are designed with gears or ratchets to make turning effortless even when the tumbler is full and heavy.
---
If you're tight on space, check out the best small compost bins for urban gardeners.