Hydroponic gardening systems provide an easy and efficient way to grow herbs and other plants indoors with minimal fuss and mess. Since these hydroponic systems use nutrient-infused water to grow your herbs there's no dirt and no mess. These kits can be set up anywhere in your home and allow you to grow fresh herbs year round. If you're looking for an indoor hydroponic herb garden it's hard to go wrong with any of these kits.
Many of these kits are perfectly sized for a kitchen counter or windowsill, which makes them a great option for casual gardeners looking to save money buying herbs from the grocery store. Indoor hydroponic gardening is also a great option for urban gardeners since it can be done indoors without a yard or garden bed to plant in. Since they are self-contained systems, they can be grown anywhere in the home or even in an office to add a little greenery to your cubicle. The flexibility of these small indoor hydroponic systems and their ease of use makes them perfect for hobbyists and newbie gardeners.
For this article, we rounded up the best indoor hydroponic herb garden systems that are available for complete kits. We evaluated the ease of setup and use, along with the availability of supplies, and the overall price to find the best indoor hydroponic grow system for all levels of gardeners. Check out our reviews below.
Best Indoor Hydroponic Herb Garden Systems
Miracle-Gro AeroGarden Harvest Elite Herb Kit
Miracle-Gro's AeroGarden was the hot product that originally kick-started indoor hydroponic gardening among the masses. Now there are many different models available in multiple color options and with cool features like wifi controls, but we are going to focus on the Classic model. This is a great entry-level model for anyone new to hydroponic gardening interested in growing herbs in their kitchen, and it's also the most affordable Aerogarden. The unit comes with a base with a control panel, a water reservoir, and space for 6 pods. The pods are cone-shaped holders with a sponge that the seeds sprout and grow inside of. These sponges absorb the water and the nutrients in the reservoir to germinate the seeds until they grow their own roots. The pods are one-time use only, so you will need replacements at the end of each growing season.
The two big selling points for the Aerogarden is that it makes hydroponic growing simple and it has a built-in 20 watt LED lighting system. Attached to the base by a height-adjustable arm, these high-performance and full-spectrum lights are almost better than relying on sunlight in your windowsill. You can grow year-round, anywhere in your home or office, no matter what kind of natural light is available. The lighting system makes this almost foolproof. Once you have the Aerogarden setup, the control panel will remind you to add the nutrients and automatically turn the lights on and off. The Aerogarden is the best indoor hydroponic grow system on the market right now.
This set comes with the Gourmet Herb Seed Pod Kit which includes six seed pods and enough plant nutrients for 1 season of growth. All supplies and replacement parts are easily available for order online, including generic pods and food available at lower prices. We've successfully used the Aerogarden to grow herbs and lettuce greens and recommend it for anyone looking to grow those indoors. They also sell pods for red heirloom cherry tomatoes, which are well-reviewed on Amazon. You can also grow flowers in your Aerogarden, but we feel like that's a waste of space when flowers are so easy to grow elsewhere.
Included Seeds: Genovese basil, curly parsley, dill, thyme, Thai basil, mint
Dimensions: 10.5″ wide, 6″ deep, up to 17″ adjustable height (5″-12″ high growing area)
---
Hydrofarm Emily's Garden Hydroponic System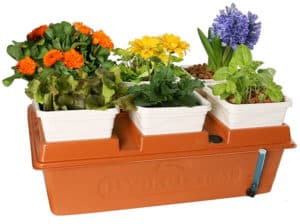 If finding natural light for your herbs isn't an issue or you're looking for a hydroponic planter that's flexible for indoor or outdoor use, this hydrofarm may be what you're looking for. It does require a little bit more "know how" and hands on maintenance than the Aerogarden, so it depends on what your needs are. We would not recomend this indoor hydroponic garden for beginners.
Available for over 25 years, the manufacturer also makes commercial hydroponic systems, so they provide a quality at home solution. These Hydrofarm hydroponic systems come with 6 individual planters to grow your herbs (or flowers or strawberries or even veggies) that rest in a 2 gallon reservoir. The pump irrigation system keeps the water aerated and the water level indicator on the side lets you know when you need to refill it. Instead of soil, this hydroponic grow kit uses a geolite growing medium that absorbs moisture and nutrients from the water and delivers it to your plants for even watering with minimal maintenance. The compact size of this system is great for growing in a sunny windowsill or small patio, and this system is great for outdoor urban gardeners as well. The large size of the pots mean you can easily grow herbs and many types of vegetables as well.
This kit comes with the full Hydrofarm setup and pump irrigation system, plus the Geolite Growing Medium and an all-purpose nutrient solution. It's just up to you to pick out the herbs you want to grow and buy the seeds. If you find that you need extra light, you can use this hydroponic kit with any indoor grow light setup. Since this kit is such a general setup, it's easy to buy replacement growing medium and plant nutrients online or in local garden stores.
Dimensions: Overall unit: 16″ x 24″ x 6″. Individual planters: 6″ x 6″ x 7″
---
EcoPro LED Indoor Hydroponics Grower Kit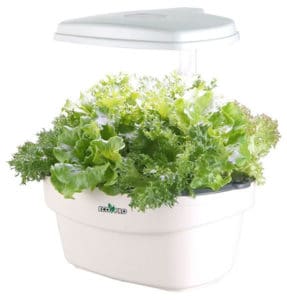 If you like the idea of the Aerogarden but don't like the price point and what the ability to grow more pods, check out the EcoPro. Utilizing a similar design, this indoor hydroponic grow system is a fraction of the price. Its goal is to give you an easy, fool-proof way to grow an indoor hydroponic herb garden in your home. It features a base to hold the water and nutrients and 8 slots for baskets grow your chosen plants. There's also a built-in water pump to keep your water circulating. By placing the growing sponge in the baskets and adding your seeds, you just have to fill it with water, program it and watch it grow. The top LED panel is the programmable light, which allows you to grow your herbs and vegetables in any location, under any light, even in the winter! The height of the light is adjustable so you can increase it as your seedlings grow.
This is great for gardening newbies as it comes with detailed instructions to set up the system (no tools required), "plant" your seeds, and care for your plants by maintaining the water and nutrients. Again, I would recommend this kind of set-up for urban gardeners and apartment dwellers who have limited outdoor space and no yard to grow in. The unit gives you the flexibility to grow most herbs, lettuce greens, and some vegetables while guiding you through the process. This is also a great set-up for a classroom or to teach your own children about the life cycle of plants and the benefits of growing your own food. It's also another way to give your kids some responsibility and practice on caring for something without giving in to their demands for a puppy or a kitty.
This hydroponics kit comes with EcoPro Grow medium and nutrients to get you started. You will have to buy your own seeds to start growing, but that gives you more flexibility in selecting what herbs (or greens or vegetables or fruit or flowers) you grow. This system is flexible enough to use any type of growing pellets or foam you want to buy as a replacement and plant nutrients are plentiful to buy online or in a local garden show. The baskets and grow domes (for seed germination) appear to be reusable as long as you wash them between uses.
Dimensions: Max height 22″
---
Click & Grow Indoor Smart Herb Garden
This is probably the second most well-known indoor hydroponic herb garden on our list. Though, I'll tell you a secret: it's not actually a hydroponic garden. It actually uses a form of sub-irrigated planting to water and grow the plants. Since the only thing that it required of the user is to add water, we figure most people considering an indoor hydroponic garden would be interested in hearing about this kit.
Click & Grow started as a Kickstarter project to make a smarter and easier way to grow herbs indoors. Over 10,000 people backed it and now it's available to buy online. Inspired by NASA's efforts to grow plants in space, they looked for a way to minimize the amount of electricity and water used to grow plants. They used technology and science to make the process as easy as possible for the grower, but at the same time, it takes away a little bit of the flexibility you can get from other hydroponic systems. This is a great option for people who are not good at growing things or for children learning to garden for the first time.
When you receive the kit, you just follow the instructions on the box to set it up and insert the plant cartridges. Then you fill up the reservoir in the base (there is a slot in the side where you pour in the water and a float indicator that shows when it's full) and then plug it in at the time you want the light to start in the morning. The light stays on for 14 hours and then turns off automatically. The plant capsules include their Smart Soil, which has all the nutrients your plant needs, and the seeds. Once it is set up, you just have to check the water level and refill it as needed. That's it, the Click & Grow does the rest of the work for you. They advertise that your plants should sprout in 1-2 weeks and then be full size in 1-2 months, with 2-3 months of harvest.
In comparison to the other competitors, this system is much smaller in size. It can easily fit on a kitchen counter even in the most cramped apartments. it's great for focused growing on just a few different types of herbs. But their proprietary design and refill cartridges give you a little bit less flexibility than some of the other hydroponic grow kits. When you decide which kit to buy, your choice between the Click & Grow and another kit should be based on whether you want the ease of use or if you want more flexibility and the ability to grow more plants with another system.
This kit comes with everything you need to set up and grow your plants, you basically just add water. After it's first use, you will have to buy their proprietary cartridges to use it again. The linked kit comes with 3 basil cartridges and is meant for growing herbs and smaller plants. Click & Grow also sells replacement cartridges for wild strawberries, lemon balm, parsley, catnip, chili peppers, chives, marjoram, oregano, peppermint, sage, thyme, and a variety of other flowers and plants. They also have what they call an "experimental refill" that you can put your own seeds in.
Dimensions: Length 11.8″, height 11.1″, width 4.7″
Color Options: White with either white, orange, or kiwi-green cover
---
Once you're set up with your system, learn how to grow herbs from seeds.