If you've ever grown a zucchini plant or two in your garden, you know how easily you can become overwhelmed by your summer squash harvest in July and August. After you give zucchinis to your neighbors, friends, and family members, you're probably still left with a pile of this delicious veggie to cook up. Here we've gathered some of our favorite zucchini recipes to make good use of your harvest while giving you a variety of delicious meals to try. Many of these recipes work well for other summer squashes, including yellow squashes.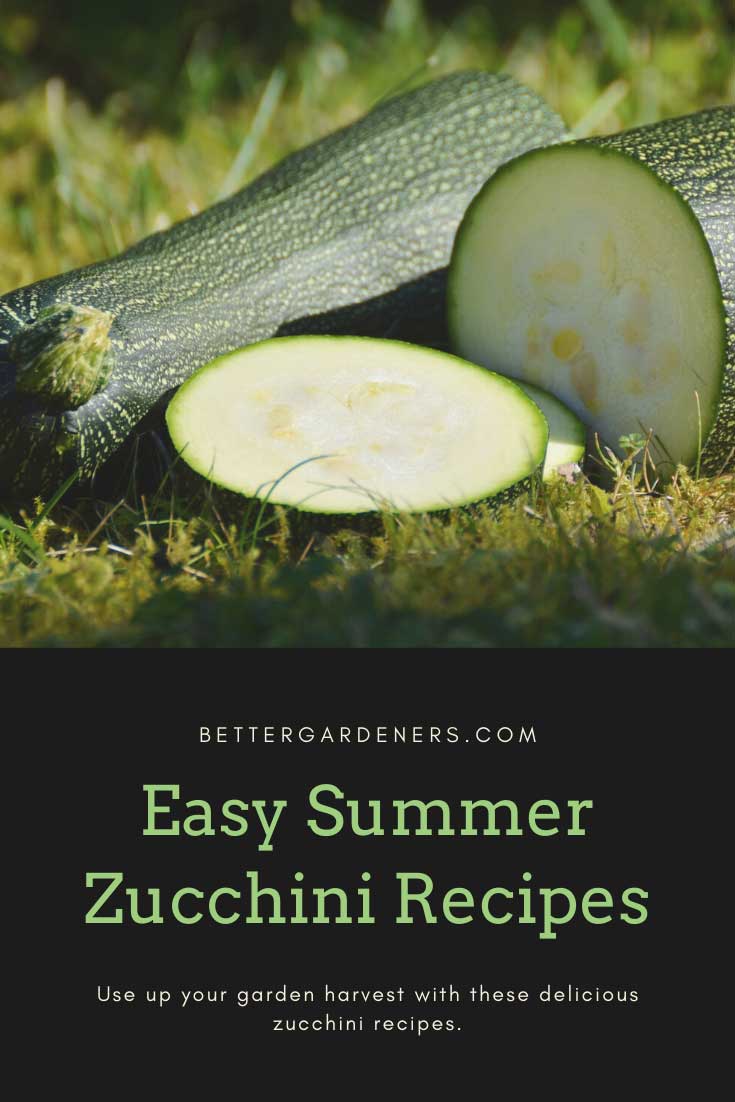 10 Delicious Zucchini Recipes
1. Fresh Zucchini Farfalle Pasta Salad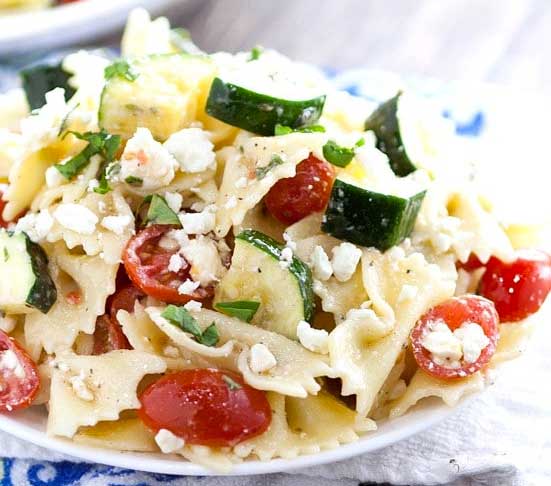 Pasta salad is a great summer recipe and this one incorporates zucchinis in a tasty way. The Gracious Wife's recipe combines zucchini, cherry tomatoes, feta, and parmesan cheese for a simple but flavorful recipe. Great for potluck barbeques or to enjoy as a light lunch. Make is healthier by using whole wheat pasta.
2. One Pan Lemon Herb Salmon & Zucchini
Get your Omega 3s with this healthy and easy one-pan recipe. Great as a weeknight meal for the whole family, the salmon and zucchini cook together on the same sheet in the oven. Take care of your main dish and side at the same time. We enjoy it with a little wild rice. Check out Damn Delicious for the recipe.
3. Stuffed Zucchini Boats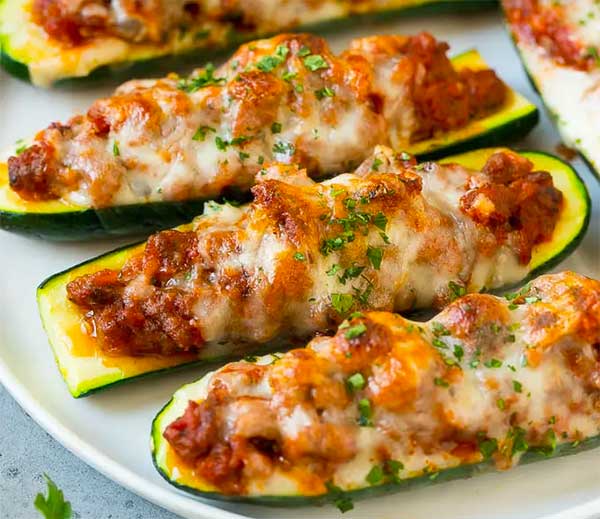 Stuffed zucchini boats are such a versatile meal because you can easily swap out ingredients for whatever you have on hand or to achieve a different flavor. We like to use enchilada sauce and ground beef or turkey to create a Mexican themed dinner. Dinner at the Zoo's recipe is more of a traditional Italian style stuffed zucchini. If you have kids who are picky eaters, try mozzarella cheese and pepperoni to create pizza zucchinis.
4. Zucchini Parmesan
If your eggplants aren't ready for harvest, you can still enjoy a classic eggplant parmesan dish with a zucchini twist. Using the same process at the traditional recipe, Food.com has you batter and bake zucchini slices before slattering them in marinara sauce and mozzarella cheese. So delicious!
5. Cinnamon Zucchini Bread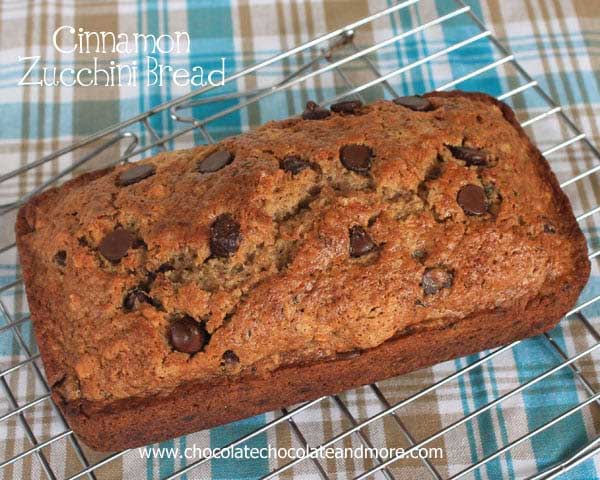 Zucchini bread is a quintessential recipe for using up extra squash. This recipe from Chocolate, Chocolate, and More is my favorite version because it really satisfies my sweet tooth. In addition to the usual ingredients, this recipe includes walnuts and chocolate chips to create a bread perfect for breakfast or dessert!
6. Beer Battered Zucchini Tacos
If you want a dinner that feels like a night out at a nice restaurant, this is a great gourmet zucchini recipe. Vegetarian and full of flavor, these tacos feature beer-battered zucchini slices and guacamole for a south of the border experience. Check out the recipe at Connoisseurus Veg.
7. Air Fryer Zucchini Fries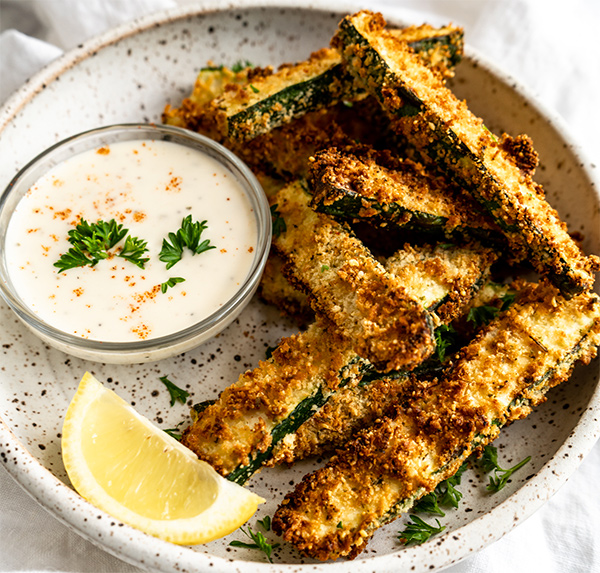 A healthy alternative to carb-heavy french fries, these zucchini fries feel naughty even with the air fryer prep. The recipe is really simple, making it a great afternoon snack for the kids or the perfect compliment to BBQed burgers and hot dogs. Check out the recipe at Windy City Dinner Fairy.
8. Zucchini Quiche
Incorporate your surplus zucchinis into breakfast or brunch with this tasty low carb recipe from The Little Pine. Delicious hot or cold, this recipe requires slicing the zucchini thinly and then swirling it in the pie pan. This creates a beautiful presentation that will impress family and friends.
9. Grilled Veggie Skewers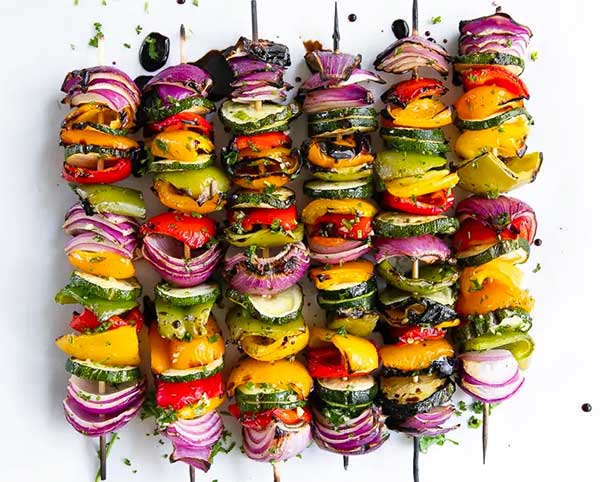 When summer heat strikes, you really don't want to turn on your oven. But grilling doesn't have to just be about meat! These delicious grilled veggie skewers from The Forked Spoon are the perfect way to use zucchini, bell peppers, and fresh herbs from your garden.
10. Lemon Zucchini Cake
This recipe seems like such a cheat because it's so good you would never expect there are hidden veggies inside! Mom on Timeout's Lemon Zucchini Cake is a moist cake perfect for dessert or to go with afternoon coffee or tea.
---
Looking for more ways to make good use of your garden harvest? Learn about the easiest to freeze fruits and vegetables and delicious infused water recipes for summer.