Herbs are great. They're easy to grow, indoors or out, and a great introduction to gardening for newbies. Not surprisingly, there are tons of gift sets and other herb-related gift ideas to give the gardener in your life. Whether they're an old pro or a cook who is interested in learning about growing new foods, herb garden gift sets are a thoughtful, fun, and useful gift. Often the sets including everything you need to start your own herb garden, so they're great for kids or adults and perfect for people who don't have traditional yards or gardens to grow in. These gifts are perfect for Christmas, Birthdays, Anniversaries, Mother's Day, and other gift-giving occasions. Check out some of our recommended herb garden gift sets and ideas below.
Herb Garden Gift Sets
Nature's Blossom Herb Garden Starter Kit
This is a great gift set for any type of gardener. It comes with everything a gardener needs to grow an herb garden from seed. Including five different types of seeds, the kit comes with biodegradable growing pots and soil pellets to start the seeds. Once your herbs are growing, you can easily transplant them into a traditional garden or into pots or a window box. The kit also includes plant markers so you can easily keep track of which seedlings are which. It all comes in a nicely designed box perfect for gift giving. This kit is great for beginners and kids, but even seasoned pros will appreciate it as a gift.
The seeds are 100% organic and non-GMO from open-pollinated plants in the USA.
Included Herbs: Cilantro, Parsley, Thyme, Sage, Basil
---
Click & Grow Herb Garden Kit
If the person you're shopping for doesn't like to get their hands dirty, herb gardening isn't out of reach for them. In fact, they may love aquaponic gardening to grow fresh herbs in their own kitchen. Not dirt is needed and the whoe system is automatic so they don't even need a green thumb to be successful.
With no seeds to plant, all you have to do is insert the plant cartridges, fill the base with water, and plug it in. The light automatically turns on and off after 14 hours of light. The plant capsules contain a special "Smart Soil" that has all of the nutrients the herbs need. The only maintenance required is to add water. This garden system is easy to use and perfect for apartment dwellers. The compact size first perfectly on the kitchen counter, leaving the herbs within easy reach for any cooks to utilize.
The kit comes with 3 basil packages, but they also offer refills of lemon balm, parsley, catnip, chives, marjoram, oregano, peppermint, sage, and thyme or an "experimental refill" that can have any seeds planted in it.
Check out more indoor hyrdroponic garden systems.
---
Garden in a Can Herb Garden Kit
If you're looking for a cute and easy herb garden gift for someone, you'll like this. Garden-in-a-Can is a set of four cans ready to grow tasty herbs in your kitchen. Inside the cans are organic, non-GMO seeds, plus nutrient rich soil and their mosture-balancing biochar which helps prevent overwatering. All of this promises low maintenance, easy to grow herbs.
When it arrives, you just have to pull the can open and sprinkle the seeds into the soil. Water regularly and soon there will be delicious herbs growing on your windowsill. This is so easy and fun that it makes a great gift for kids or adults. The labels are cute and these cans look great on your kitchen counter. Once you're done, the cans are fully recyclable.
Included Herbs: Basil, Mint, Cilantro
---
Enterra Supply Herb Garden Seed Starter Kit
This is another great herb garden gift set for indoor or outdoor gardening. Stocked with everything needed to get started, this garden kit comes with organic herb seeds, soil disks, and biodegradeable grow pots. Once the kit arrives, you just have to filled the pots, plant the seeds, and water. Once the seedlings are established, they can be planted in traditional pots or in a garden bed.
The kit also comes with wood plant markers to help you keep track of which seedling is which herb and an adorable "SEEDLINGS" crate to put your grow pots in. This is a cute and easy to use herb garden gift set great for kids or adults and any level gardener.
Included Herbs: Basil, Thyme, Dill, Cilantro
---
Cedar Herb Garden Gift Sets
If you're looking for a classy herb planter that looks great in any kitchen or patio, this is the gift set for you. The kit comes with three cedar wood planters and a matching drip tray, so it can be used inside or outdoors. It also comes with six different heirloom seeds to choose from, plus detailed planting instructions for each one. you'll plant those seeds in their nutrient rich Wondersoil. To help you keep track of your plants, they even include chalk to write the names on the side of the pots.
This is a very chic and stylish herb garden kit, great for chefs and foodies who want to grow their own fresh herbs in their kitchen. No gardening knowledge is needed to grow this cool herb garden.
Included Herbs: Basil, Cilantro, Thyme, Oregano, Chives, Parsley
Available Colors: Coastal Turquoise, Wicker Brown
---
DIY Herb Garden Gift Sets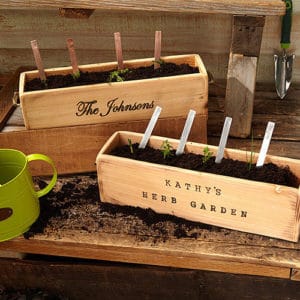 If you really want to give a unique gift, you can make your own herb garden gift sets, perfectly personalized for the receiver. All you need are a few elements to guarantee a successful herb garden.
Seeds
This is the most essential part of your gift, as the seeds will determine what herbs will be grown with the kit. Really personalize this for your loved one, select herbs they enjoy in their cooking or if they like to drink tea, get them herbs like peppermint and chamomile. If you're not sure what herbs are best, there are plenty of seed sets to choose from.
Pots or Containers
You'll need to give something to grow those seeds in. If the person you're shopping for likes to garden in their yard or a garden bed, you may just want to give them a seed starter to establishing seedlings in before transferring to a garden.
Another option is to buy a set of small pots or a window box to grow the herbs in a kitchen windowsill or on a patio. There's plenty of options for all types of styles and sizes. If you buy a large enough container (like the personalize window box featured above), it can work as your "gift box" for this present.
Soil or Growing Medium
They'll need something to grow the seeds in and regular garden dirt won't do. I would recommend either getting a small bag of potting mix or compact potting soil wafers, which are small disks that expand to create a nutrient-rich soil for your herbs. The soil wafers are usually a better size for gift boxes or for herb gardens gift sets that need to be mailed.
Plant Markers
This is an optional item, but a cute way to add some personality to your gift. This is especially good for gardeners who will be planting the herbs in their yard. Plant markers are a great way to keep track of seedlings in pots or garden beds. You can even make custom plant markers very inexpensively. If you're not a crafty person, there's plenty of plant markers to buy on Etsy.
---