Mother's Day is perfectly timed for gardening moms. It falls during spring when its time to plant and enjoy outdoor gardens and flowers. If your mom loves to garden, then it's a great idea to give her gardening gifts for Mother's Day. We've gathered a variety of gift ideas, from practical garden tools to thoughtful and personal presents. Check them out below: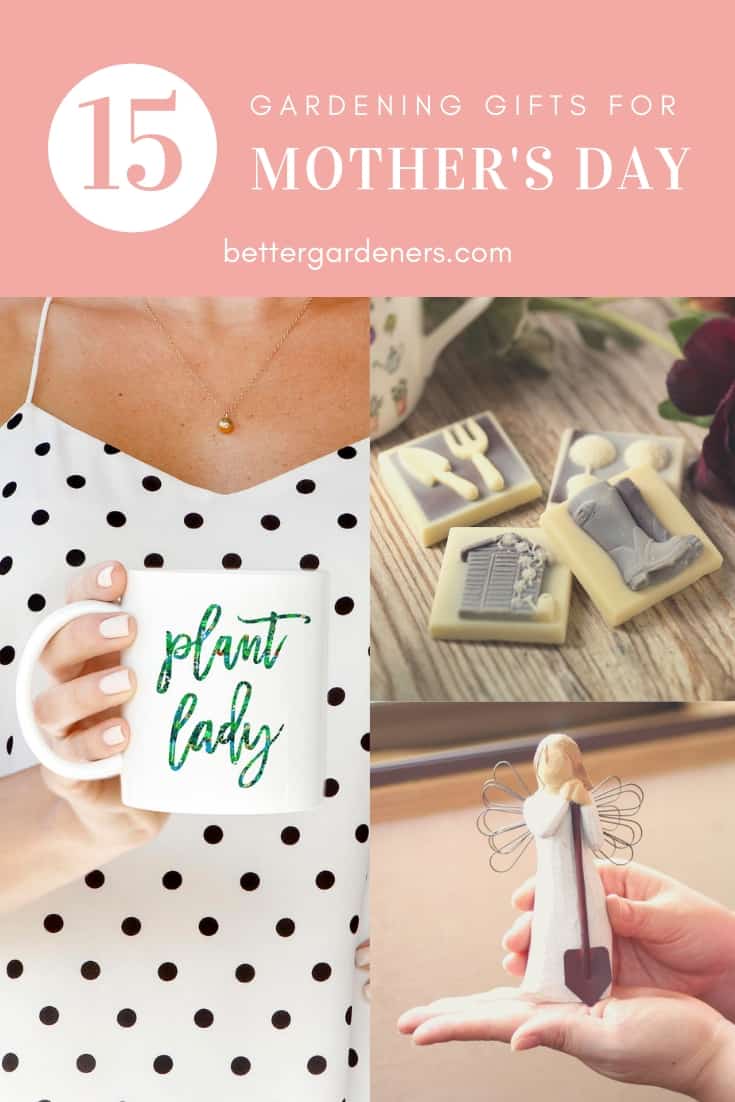 Gardening Gifts for Mom
1. Butterfly Wind Chime
Add some beauty to mother's garden with this lovely gift. This wind chime not only adds lovely music to any outdoor space, it has it's own little gardening details. Pressed between the butterfly's glass wings are flowers. These lovely details will be appreciated by any gardener.
---
2. Seed Paper Flowers Bouquet
Flowers are a classic gift for Mother's Day, but Paper Sprouts takes it to the next level. These gorgeous bouquets are made up of handmade paper flowers. They can be displayed indefinitely, or they hold a secret. The paper they're made out of is actually embedded with flower seeds. So your mom can plant these "flowers" and enjoy her own flowers in her garden.
---
3. I Wet My Plants T-shirt
This gift is perfect for a mom with a sense of humor. This t-shirt says "I wet my plants" and features a watering can and cute flowers.
Available in men, women, and youth sizes in black, white, blue, gray, and pink.
---
4. Gardening Chocolates Gift Set
A good mom deserves good chocolate and this set is perfect for gardeners! Chocon Choc makes this lovely gardening themed chocolate set. It comes with four pieces made with a combination of white and dark chocolate with the designs of garden tools, topiaries, garden boots, and a shed. Handmade in the UK, any gardener mom will love these.
---
5. Garden Kneeler & Stool
If you want to get a practical gardening gift, this item is perfect! Make garden work easier with this combination stool & kneeler. The "seat" is adjustable for comfortable sitting or kneeling while working in the garden. It also features pouches for keeping tools nearby.
Check out more garden kneeling pads.
---
6. Succulents Gardening Necklace
If you feel like buying jewelry, here's a cute unique piece for gardening moms. This necklace is handmade by The Green Sorceress, with a pendant featuring four resin succulents. It's a beautiful tribute to mom's love of plants. 24″ chain with a 2.5 inch pendant.
---
7. Angel of the Garden Statue
This gift is perfect if you want to give your mom a guardian angel for her garden. Design and hand painted by artist Susan Lordi, the Willow Tree Angel of the Garden is a gorgeous figure holding a shovel. One thing to note, it is not designed for outdoor display, but looks wonderful on a shelf in your home or displayed in a garage.
---
8. MOM Planter Set
This cute set of pots is perfect for any mother who loves to fill her home with plants. Handmade by Kenny Clay Co., this set of three ceramic containers are perfect for succulents, air plants, or any other small houseplants. Together they spell M-O-M, celebrating the best woman in your life.
---
9. Plant Lady Mug
If your mama loves her morning cup of coffee or tea as much as she loves working in her garden, get this mug! This 11 oz. ceramic mug says "Plant Lady" on the side in a cool cursive script. Microwave and dishwasher safe. Include some of your mother's favorite tea or coffee to make a gift bag she'll really appreciate.
---
10. Face Planter Vases
These planters are so cute! Handmade by Bohemia Goods, these gorgeous vases feature feminine faces. Once you put flowers or plants inside, then it looks like the woman's hair. Made in various sizes and "skin tones" you can order one or a few for your mother to display some of her favorite plants or flowers.
---
11. Sloggers Garden Shoes
These garden clogs are cool, comfortable, and waterproof! Available in over a dozen gorgeous designs, these garden shoes are perfect to keep feet dry even in the muddiest conditions. Easy to slip on and off to keep dirt outside the house. Made in the USA from 100% recyclable material, these shoes are non-latex and vegan friendly.
---
12. Mom's Garden Rustic Sign
Let your mother lay claim to her domain! The handmade signs from 81 Metal Art are perfect for display in a flower or vegetable garden. Made from steel, they're given a rustic look and come with a stake to easily display in your yard. Available in three sizes.
---
13. Purple Floral Garden Tools Set
Weeding becomes stylish and fun with this floral garden tools set. Completely with 10 tools and a gorgeous lilac carrying case, this kit has everything you need for the most common garden tasks. Great whether mom grows flowers, veggies, or both!
---
14. Butterfly Garden Seed Kit
If your mom enjoys nature as much as she enjoys gardening, this is the perfect gift for her. Deckerrd Seeds makes these lovely butterfly garden seed kits. Included are six different types of seeds (Zinnia 'Carousel', Nasturtium, Coneflower 'Pale Purple', Cosmos 'Sensations', Lupine 'Russell Mix', and Corn Poppy 'Shirley Mix'), six coco pots, six soil pellets, and six wooden plant markers. With the included planting instructions, you have everything you need to start your butterfly garden.
---
15. Herb Garden Starter Kit
This is a great gift to kick off the growing season. Garden Republic makes this cool herb garden starter kit that has everything you need to grow herbs indoors or out. It comes with seeds for cilantro, thyme, parsley, and basil which you can start in the burlap grow bags using the potting soil disks. Go on to plant them in your garden or the wood grow box. use the bamboo markers to keep track of your crops.
Check out more herb garden gift sets.
---
16. You Belong Among the Wildflowers Journal
If your mom likes to write, then this is a lovely garden-themed gift for her. This beautiful journal features a lovely design of flowers and leaves with the quote "You Belong Among the Wildflowers."
---
Need more gift ideas? Check out these Mother's Day gifts for book lovers and meditaiton and yoga gifts for moms. We also have recommendations for unusual gardening gifts and practical and fun gifts for gardeners.